When we talk on Best E Mail Marketing Software, we should know about E Mail Marketing basics and its benefits.
E Mail Marketing is one of best way to reach to maximum number of people in just one click and to grow your business.
In earlier age, we used to send our messages through medias like birds, postman. But these were operated with some limitations like Repeatability, time consumption and many more.
Later on, we transferred to wireless and contact less technology, where we use our phones or pagers to send out messages, but this was also with limits, as we have to do it manually every time.
Now a days, E Mail Marketing is introduced in the virtual market, and we can send multiple messages to single person or single messages to many persons on daily basis or at some specified time manually and automatically too, with E Mail Marketing.
What is E Mail Marketing
E mail marketing is known as a marketing of your product or services through E mails and convert your users in to a paying customers.
E Mail Marketing is a trick through which you can send E mails to your viewers, users or customer on daily, weekly, monthly, or at some specific time schedule and keep constant contact with them.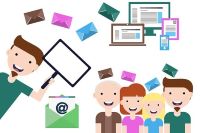 If you are a businessman, small shop keeper or a Digital Marketer, an E Mail Marketing is the best tool which will help to you to grow your business with reach to maximum number of peoples or customers.
In today's digital world, soft and virtual technology is on top and providing best results to its users who operate it with some intelligence and smartness.
With this blog, you will learn about best E Mail Marketing tools which you can use free for some period to test out your process works better or not and of course once you satisfy with it, you can opt for paid plans too.
below are top most E Mail Marketing tools which are very popular and successful to many business persons.
3 Best E Mail Marketing Software
E Mail Marketing is the filed where you can send mails to peoples and convert them in paying customer and if they are already a customer you can invite them to your new products or news letters and get more profit from them with value providing to them.
Here you can send series of E mails to peoples and convert them in to your customer.
E Mail Marketing is operated by some tools and software where you can plan and schedule E Mail Marketing strategies.
Below are Best E mail Marketing Software, which you can use to grow your business.
1. Get Response
This is one of best tools where you can send multiple E mails to peoples with other good features like, landing page, E mail automation, Retargeting, Sales funnels etc.
You can get free trial and get an idea how to use this tool with tutorial and videos you will get once you get in to it.
Once you have completed a trial period you can opt in for paid plans as per your business requirements.
Below are some main features in brief which you can use to grow up your business and can build a very good customer base and relations with them.
Landing Pages – You can create very beautiful landing pages with the help of pre build templates in this software and convince people to take actions on your site.
Forms – This is very good feature of this software, where you can generate different kind of forms and collect the details of visitor and send E mails later on.
Webinars – If you are connected to Education field you can conduct webinars directly from this software and invite peoples to get to your landing page.
Autoresponders – with this function, you can send multiple E mails automatically when people just became your customer like Welcome E mail.
E Mail Creator – Obviously, you can send E mails to multiple people through ready made templates to multiple peoples at a time.
E Mail Analytics – This function will enable you to track the progress of E mail sent and you can take appropriate actions to make your E mail campaign successful.
Customer Care – If you find any difficulty or face any issue while operating this tool, you can contact chat support immediately and get resolution of your query.
Still, there are so many features which you can use once you sign up and get in to the software, and no worries you can cancel the free trial at any time if you are not satisfied with the performance and services of this software.
2. Send In Blue
This is another software which will provide you multiple options to reach to different people or to your customer with Free as well as paid plans.
You can use this software FREE for first 3o days and then you can switch to paid plans once you aware on all of its features.
One of the useful benefit of this software is its academy, yes, they have it own academy, with name Send in Blue academy which you can enroll once you sign up for this software.
In this academy, you can learn how to do E mail marketing with send in blue and other basics of E mail marketing which you should know while working in this field.
Below is the link which will illustrate all the features of this software.
This tool has also different features like, Landing Page, E Mail Automation, Sign up forms, Webinars etc which you can use once you sign up.
With this software you can integrate your other accounts and run social media ads directly from this software like Facebook Ads.
You can integrate different other software like Shopify, Woo Commerce, Google Analytics, WordPress Website, and other plug ins too.
They also have their own help centre where you can contact in case of any query or facing any issue using this software.
3. Constant Contact
As it name indicates it will keep you in constant contact of your customer, with its different features and tools which you can use once you sign up.
Below are some of its features in brief
You can create your own ecommerce website and sell products.
You can create your own sign up forms.
You can build your subscribers list.
You can track the performance of campaign.
You can run the ads on social medias like Facebook & Instagram.
Here too, you can sign up for FREE for first month, and then you can switch to paid plans which suits to your requirement, if you find it useful.
Once you sign up for this tool, you will get E mails in your mail box providing you the best information how to use this too at its optimum level.
They have their own chat support where you can talk or chat with them while you are facing any trouble to use this software.
Conclusion
With this blog, we tried to provide you the best information and in sight on Best E Mail Marketing software, which we have tasted personally and found very useful and transparent.
Hope, you will find it useful and share it to different persons to get more and more benefits from this software.
For more information, which you think is missed in this post you can contact us, we will include it here.